Action or Assignment?
Over and over again at my workshops, I remind marketers and development personnel to add their Facebook and Twitter locations on their traditional flyers, print media, brochures, bus-stop signs, etc. And, over and over again I've seen nonprofits and companies do this: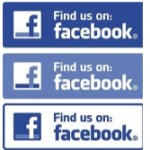 These are badges to be used online where people can click on them. They are calls to action when you are on the Internet and are fine to use and you obviously want to look for badges that fit your brand.
These are not helpful on the bottom of a menu in a restaurant or on a brochure. When only in print form, these badges become assignments to do, like homework. I don't want to see this on a billboard driving down the interstate and then have to come home a search for your company in order to say that I like you... that's not time that I have in my life.
Solution:
Share your experience! @mytwitterIDgoeshere
Get tips and share stories with friends on fb.com/myfacebookPageNamegoeshere
If you are planning an extensive hashtag campaign - just give me that, if I'm in your audience, I'll know what to do.. heck it's all over my TV shows now. Give me a hashtag I'm good to go.